---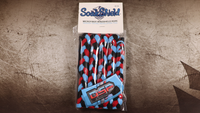 SoakShield - OG
SoakShield
The window tinting industries first and original absorbent rope braid used for absorbing water running down behind the dash of a vehicle while installing film.
Helping to protect the electronics and other parts from water damage.
The SoakShield rope is also used to collect the water that would absorb into the top layer of what the dashboard is covered in. Example: Leather, Suede, Vinyl, and Cloth. When water is left to sit on the edges of the dash it can cause the material to unglue and curl up on the edges, damaging the whole dashboard.
Made of microfiber strands braided together by hand for window tinters by tinters. Used by Installers World Wide. This braided Absorbent rope is tucked between the bottom of the windshield and the dashboard to stop and soak up the water running down behind the dash and causing issues with electronics.
Original Standard size is 5-6' long depending on stretching it out during installation. Great for your average coupe, sedan, compact SUV.
Ends coated to prevent Frey of strands.
90-day free replacement if defect from workmanship.
Machine Washable.
Hand Made in the USA, By Tinters for Tinters